[Online] Shame & Self-Loathing in the Treatment of Trauma with Janina Fisher– (3 CEs)
August 12 @ 9:00 am

-

12:15 pm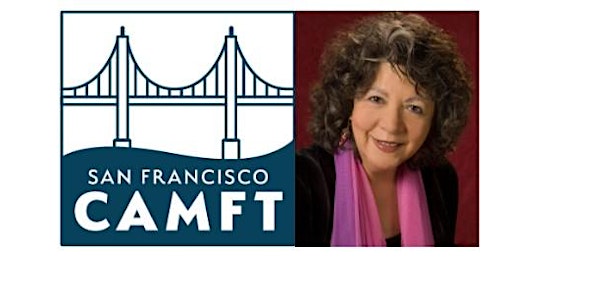 A neurobiologically-informed approach to treating shame and self-hatred, including somatic interventions taught by Janina Fisher.
About this event
Virtual Zoom Training Presented by Janina Fisher, Ph.d.
Training Description: Therapists frequently confront the negative impact of shame on their clients' ability to find relief and perspective. Feelings of worthlessness and inadequacy interfere with taking in any positive experience, leaving only hopelessness. Attempts to increase their ability for self-assertion get undermined by beliefs that they do not deserve respect or care. Even progress in the treatment or greater success in life stimulate more shame and self-judgment rather than pride in their hard work. The client repeatedly takes two steps forward, then one step back.
This workshop will introduce participants to an understanding of shame from a neurobiological perspective—as a survival strategy driving somatic responses of "total submission." In this webinar, participants will learn to help clients learn to relate to feelings of shame with curiosity rather than self-hatred. When traditional psychodyanamic and cognitive-behavioural techniques are integrated with somatic interventions emphasizing posture, movement, and gesture, issues of shame can become an avenue to transformation rather than a source of stuckness in treatment.
Educational Goals:
Clinicians will develop greater sophistication in working with shame as it inevitably arises in trauma treatment
Understanding shame and other symptoms from a neuroscience perspective contributes to an important area of professional growth in the mental health world
Learning Objectives:
By the end of the course, participants will be able to:
Evaluate the biological consequences of shame and self-loathing in the context of trauma
Specify two differences between healthy shame and "toxic shame"
Identify three somatic interventions for shifting shame states somatically
Describe two methods for challenging shame-related cognitive schemas
Outline of the Course
9:00-9:30: The neurobiology of shame
Shame and the autonomic nervous system
Shame as a survival strategy
9:30-10:00: Shame and the body
Disrupting shame-related patterns
Separating cognitive and physical aspects of shame
10:00-10:30: Mindfulness in the treatment of shame
Differentiating thoughts, feelings and physical reactions
Using somatic interventions to regulate shame
Using cognitive interventions to challenge shame-based beliefs
10:30-10:45: BREAK (15 minutes)
10:45-11:30 Treating shame from the "bottom up"
Non-verbal as well as verbal interventions
Addressing shame as a child part of the self
Helping clients develop compassion for the 'ashamed part'
11:30-12:15: Making use of the social engagement system
Components of the social engagement system
How to use the social engagement system to reduce shame
Fees & Continuing Education Credits:
3 CEs SFCAMFT Member (Live or Recording): $30 (plus ticket fees)
3 CEs Non-Member (Live or Recording): $45 (plus ticket fees)
Pre-Licensed and/or No CEs (Live or Recording): $20 (plus ticket fees)
****By attending the live event, you consent to your voice and/or likeness being recorded and heard/seen by those viewing the recording of the training****
The workshop is designed for mental health professionals and provides 3 CEs for LMFTs, LCSWs, LPCCs and LEPs.
Pre-registration is required by Friday, August 12th at 8am PT.
By registering for the event, your spot will be reserved, and you will receive the event Zoom link.
This workshop is offered by the San Francisco Chapter of the California Association of Marriage and Family Therapists (SFCAMFT).
Event Information & FAQs
Course Zoom Link:  Quickly after registering for the event on Eventbrite, you should receive an email from Eventbrite that confirms your registration, and that same email will include the Zoom link for the meeting.  You may also go to the event page on Eventbrite on the day of the event to join the Zoom meeting by logging into Eventbrite using the email/account you used to purchase your ticket.
Recording Available: A recording of the training will be available and will be sent to those who register for a "recording" ticket within three days of the event.  The recording will be available for 30 days from when it is initially sent. You may watch the recording and still be eligible to earn CEs as long as you purchased the "viewing recording" ticket option that includes 3 CEs, watch the training, and complete the online evaluation and short quiz within 30 days of the recording becoming available.
****By attending the live event, you consent to your voice and/or likeness being recorded and heard/seen by those viewing the recording of the training****
How do I get CEs for this event?
Live Attendance:  If you attend live, you must purchase the "attending live" ticket option that includes 3 CEs. Course completion certificates will be awarded after the course in exchange for a completed evaluation form to be done online. To qualify for CE credit, you must arrive on time, stay until the end of the program, and fill out the online evaluation. Your CE certificate will be emailed within 30 business days after the event.
Watch the Recording:  If you are not able to attend the training live, you may watch the recording and still be eligible to earn CEs as long as you purchase the "viewing recording" ticket option that includes 3 CEs, and watch the training and complete the online evaluation and quiz within 30 days of the recording becoming available.
How can I contact the organizer with any questions?
For any questions, concerns, disability accommodations, or grievances related to programming, please contact the Programming Chair, Kristy Noryko, AMFT via email at sfcamft@gmail.com.
Any person with disabilities who may require accommodations to participate in our trainings or special events is asked to please contact the organizer at least 3 days prior to the training.
What's the refund policy?
All fees are paid to SFCAMFT and are non-refundable.
SFCAMFT (CEU provider #62283) IS APPROVED BY THE CALIFORNIA ASSOCIATION OF MARRIAGE AND FAMILY THERAPISTS TO SPONSOR CONTINUING EDUCATION FOR LMFT'S, LCSW'S, LPCC'S AND LEP'S. SFCAMFT MAINTAINS RESPONSIBILITY FOR THE PROGRAM AND ALL ITS CONTENT.
Questions? Contact: sfcamft@gmail.com
Presenter: Janina Fisher, Ph.D. is a licensed clinical psychologist and former instructor, Harvard Medical School. An international expert on the treatment of trauma, she is the author of Healing the Fragmented Selves of Trauma Survivors: Overcoming Self-Alienation (2017), Transforming the Living Legacy of Trauma: a Workbook for Survivors and Therapists (2021) and The Living Legacy of Trauma Flip Chart: a Psychoeducational In-Session Tool for Clients and Therapists (2022), as well as co-author with Pat Ogden of Sensorimotor Psychotherapy: Interventions for Trauma and Attachment. Dr. Fisher has also developed her own trauma-informed treatment model, Trauma-Informed Stabilization Treatment or TIST, designed for severe trauma-related disorders and self-destructive behavior. More information can be found on her website: www.janinafisher.com.